Modified date 2019/09/06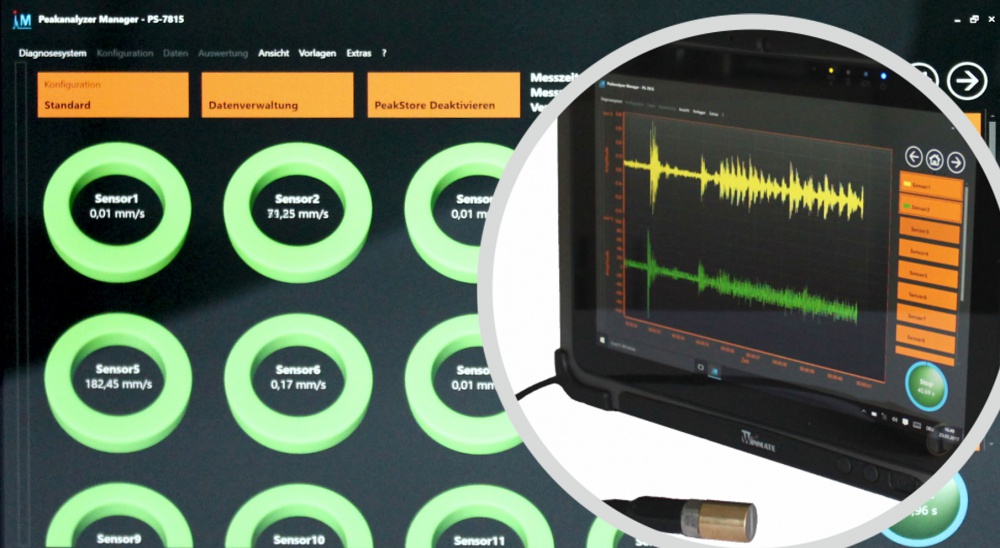 PeakStore5
At the In.Stand maintenance trade fair in Stuttgart, the Berlin-based GfM Gesellschaft für Maschinendiagnose presents its proven solutions for highly efficient condition monitoring. Condition monitoring allows the damage status of drive elements to be assessed very well. This makes availability and reliability forecasts of production plants more accurate. Maintenance activities are easier to plan. Finally, the operator of production facilities generates a measurable monetary advantage. Not infrequently, the effort for a condition monitoring system is already amortized several times by only a timely detected damage.
GfM presents the offline vibration diagnosis system PeakStore5 in Stuttgart. The system was specially developed for measurements on drives with gearboxes. It's not only small, handy and battery operated. Above all, up to 12 vibration channels with 50 kHz each and a speed channel are measured absolutely simultaneously. To meet OSH requirements, the PeakStore5 can be remotely controlled via an app on a smartphone so that no personnel need to be in the vicinity of the production facility during the measurement. New is the balancing function, which works at variable speed.
Operation is via a touch screen, which is part of a fully integrated tablet PC. There the complete configuration of the system takes place. But you can also view the measurement data directly and analyze it on-site if necessary. Measurement logs and photos can be saved directly to the order. The measurement data can then be sent via WLAN and access point directly to an analysis service provider.
In addition, GfM will be presenting the online condition monitoring system Peakanalyzer, where the start of the measurement can be triggered by specific events. This enables diagnostics on machines with a high degree of discontinuity, such as drives for cranes. Furthermore, visitors can inform themselves about services for machine diagnostics, foundation monitoring and video endoscopy of transmissions and finally the seminars on condition monitoring.
All GfM systems are characterized by the greatest possible automation of diagnostic processes. This keeps the running costs for the monitoring service very low. The basis for this is a very good data quality. Usually measured with high-resolution acceleration sensors, high sampling frequency and long measuring time. The order analysis is used for the diagnosis. So speed ripple has no effect, and the measurement results are absolutely reliable. In the online system, the vibration assessment is fully automatic frequency-selective by comparing significant peaks in spectra with kinematic damage frequency patterns. Only when the system finds clear evidence of possible harm, the expertise of a human is required, then makes a maintenance decision.
In Stuttgart you will meet us at booth no. 2C11.5. Proven experts from our company are very happy to explain systems and procedures. We are looking forward to your visit.