History of GfM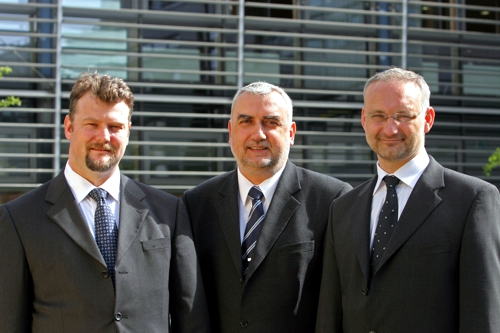 Dr. Rainer Wirth wrote his doctoral thesis at TH Zittau on the topic "Impacts on the Reliability of Vibration Diagnosis in Rolling Bearings". Mr. Dipl.-Ing. Axel Haubold studied gear engineering at the TU Dresden. Mr. Dipl.-Ing. Kai Uchtmann studied gear engineering at the University of Applied Sciences Münster. All three were responsible for the machine diagnostics department at a major German manufacturer of industrial gearboxes. In 1999 they founded the GfM Gesellschaft für Maschinendiagnose mbH in Berlin.
From the beginning, the vibration diagnosis was offered as a service, initially using purchased technology. Very soon, the own offline diagnostics system PeakStore was developed to ensure the desired diagnosis quality. Several development steps ultimately led to the PeakStore5, which is one of the most modern systems on the market with 12 vibration and two speed channels, a sampling frequency of 50 kHz per channel, an arbitrary length of measurement time and order analysis as standard.
Torque measurement and torsional vibration analysis were also offered from the outset.
The Peakanalyzer was developed at the same time - the powerful online condition monitoring system of the GfM. Again, several development steps were necessary to achieve today's quality. Meanwhile order analysis and fully automatic frequency-selective diagnosis are standard. Two to 64 vibration sensors and up to 16 speed sensors can be connected. Thus, the system is perfectly suited for mechanical drives of any kind.
Mission Statement of GfM
We are always committed to our customers. That is why there are a few things that the employees of the GfM daily take to heart and which finally make the GfM:
Machine diagnostics is carried out in the highest possible technical and professional quality. We regard the international knowledge as just good enough for our services.
Diagnostic reports and expert opinions are technically oriented. Since the GfM is independent, it is easy to assess all diagnosis results absolutely neutrally.
We are flexible. Of course, we also need an order book and are therefore looking forward to long-term orders. But if a customer then comes with a particularly urgent order, we are usually able to react immediately.
Since our systems consist exclusively of components which are customary in the market, customers are not dependent on the supply of spare parts by GfM.
We are active worldwide.