Automatic parameter monitoring
The monitoring of characteristic values and parameters has a long tradition. Already in the 60s the VDI guideline 2056 was created, which now was withdrawn. It served originally the assessment of the influence of vibrations of electrical machines on their foundations. Consequently the effective value of vibration velocity in the range of 10 up to 1000 Hertz is the supervised parameter.
Reminder: In the 60s, the detection of characteristic values was carried out mainly with analog technology up to visualization with hand instruments or measurement scribes which could draw a measured value to a paper web.
Today, characteristic values and parameters have still a certain importance for the machine monitoring. Although the frequency selective machine diagnosis is much more accurate and reliable. But it requires computation time. In contrast, the parameter monitoring enables extremely short reaction times.
For machine diagnostics the following characteristic values come into question:
Effective value of vibration velocity
Effective value of vibration acceleration
Effective value of the envelope curve of the vibration acceleration.
Typically, one first stores reference values with which the later measurement values are compared. In this way, changes in the vibrational behavior can be extremely quickly recognize. Normally, the specific cause of anomalies cannot be derived from characteristics. However, this may be clarified by a subsequent frequency-selective diagnosis.
Typical applications for the monitoring of characteristic values are:
Monitoring machine tools
Test runs on test stands for the purpose of emergency shutdown
End-of-line testing of serial products.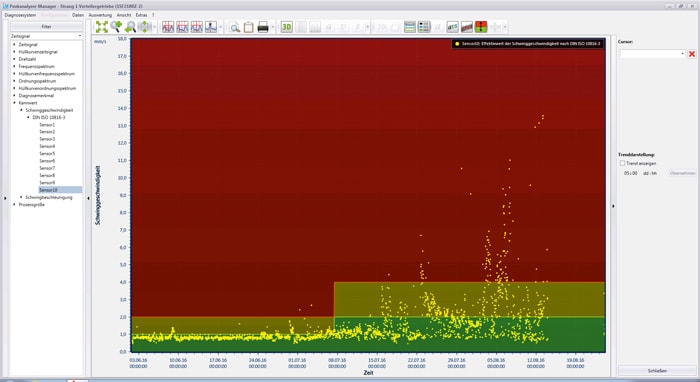 RMS value of vibration velocity